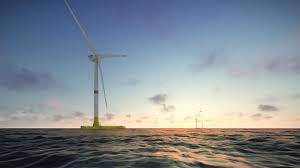 Wind Industry News
Greece's Path to Offshore Wind Farms: A Step Toward Renewable Independence
In a significant move toward reducing its reliance on fossil fuels, Greece announced plans for its inaugural offshore wind farms, designating key areas for private development in a draft plan unveiled by the country's conservative government on Tuesday.
Given its extensive coastline and consistent, robust winds, Greece has already made significant strides in renewable energy generation, with over 50% of its power sourced from onshore wind, solar, and hydro sources in the previous year. However, the remaining portion still originates from carbon-emitting fossil fuels such as natural gas, coal, and oil.
The plan outlines the intention to establish a minimum offshore wind capacity of 2 gigawatts by 2030, representing a tenth of the country's existing onshore capacity. The proposed development areas, situated in the Aegean, Ionian, and Mediterranean seas, encompass a total area of 1,047 square miles (2,711 square km), with an anticipated minimum capacity of 12.4 gigawatts. Notably, the majority of these areas are suitable for the utilization of floating technology, according to the Hellenic Hydrocarbons and Energy Resources Management Company (HEREMA), the overseeing body for the program.
Highlighting the national significance of these initiatives, Energy and Environment Minister Theodore Skylakakis emphasized their potential contributions to Greece's energy independence and the prospect of exporting green energy in the future. While acknowledging concerns raised by environmentalists about potential biodiversity threats during construction and dismantling, HEREMA has assured that it has taken into account various factors such as environmental sensitivity, national security, navigation, cultural heritage, and tourism activities in the planning process.
The Hellenic Wind Energy Association (ELETAEN) estimated that realizing Greece's 2-gigawatt target would necessitate investments exceeding 6 billion euros ($6.34 billion). The initial phase of the plan, scheduled until 2032, identifies 10 eligible areas for offshore wind farm installations, including locations around the islands of Crete and Rhodes, the central Aegean Sea, and the Ionian Sea, with a cumulative capacity of approximately 4.9 gigawatts.
Pending final approval by the year's end, the designated areas are expected to be officially demarcated by the close of 2024, marking a critical step in Greece's journey toward a more sustainable and renewable energy landscape.