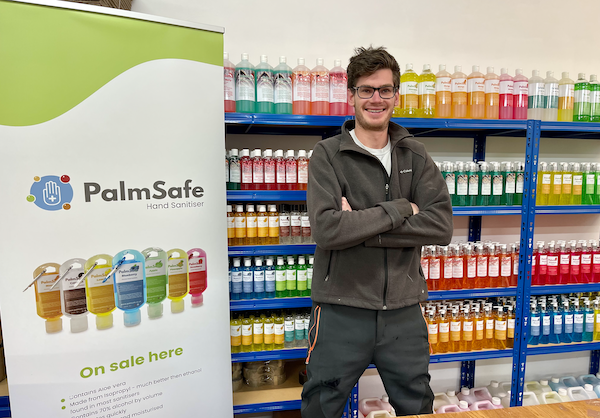 Oil and Gas Jobs
Redundant Oil Worker Employs 20 as Business Success Spirals
An oil and gas worker has seen his fortunes turn after being made redundant from his job at Halliburton at the start of the pandemic. Marko Steiger lost his job in May 2020, before setting up Palm Safe, an Aberdeen-based hand sanitiser business that has gone viral online offering high quality scented hand sanitiser through their website www.palmsafe.co.uk
Among the company's thousands of 5-star reviews, there are many from healthcare professionals including doctors, dentists and nurses who swear by Palm Safe's products. The company claims their hand sanitiser doesn't dry or crack the skin, is non-sticky and leaves hands moisturised and smelling great. The Trustpilot feedback would suggest that this is certainly the case.
The company was only officially launched in Q3 last year but is already hitting six-figure monthly sales and has grown, as evidenced by its social media accounts, a very loyal customer base.
Speaking to Energy People, Marko Steiger said: "I am delighted that, after having gone through the pain of being out of work, Palm Safe is already in the position to be able to hire staff and expand our business."
"We will be hiring via the government-backed Kickstart scheme with a view to helping young people, who are currently unemployed, get a start on the career ladder. In total we will be hiring for 20 positions before the end of the year and five new employees have already been recruited under the scheme. It is fantastic to be able to give something back in the form of new job opportunities for local young people, after receiving so much support from local customers and businesses in Aberdeen."
Palm Safe recently partnered with Aberdeen mental health support organisation, Man Chat, and created a special sanitiser for men. The special bottles include suicide prevention messaging and a helpline number for anyone suffering from mental health issues. Several high-profile companies have bought bulk orders to distribute to their staff.
The company is based in Aberdeen where it bottles, packages and distributes its scented hand sanitisers all over the UK. They are looking for packing staff, production assistants and marketing and sales assistants. All applications should be made via the job centre as Palm Safe can't accept direct applications without a Kickstart referral.